Sharks Win Waterloo Team Cup & Provincial Medals
Sharks Win Waterloo Team Cup and Score a Trove of Medals at Provincials
The Chatham Pool Sharks had a busy weekend competing throughout Southwestern Ontario.
In Baden, the Junior and Regional swimmers competed in the Waterloo Region Team Challenge Cup where the team with the highest overall point average won the coveted cup. The Sharks chewed through the competition to come home with the trophy. Results are attached.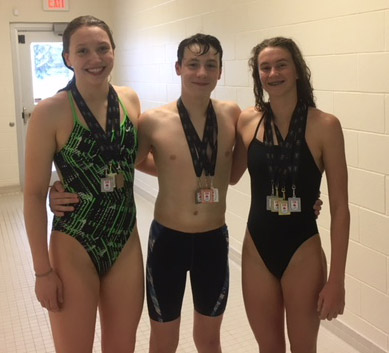 In Etobicoke, the senior Sharks, who had provincial qualifying times, competed at the Ontario Spring Provincial Champs meet. This Ontario-wide championship meet brought together the fastest Ontario swimmers to compete in a long course pool (50 m). The Sharks had fantastic results and earned 14 podium finishes and 29 top 8 places.  Genevieve Sasseville, received the award for highest point earner in the female age 15 division.
Top 8 finishes were recorded by Quinn Matteis, Connor McFadden, Kendra Polewskim Genevieve Sasseville, David Tran and Madeline Tran.
Quinn Matteis (M13)
Silver

200 free

Silver 1500 free
Bronze

800 free

Bronze

100 free

4th

50 free

7th

400 IM

7th

200 fly

Connor McFadden(M14)
6th

400 free

6th

1500 free

8th

800 free

Kendra Polewski(F17)
Gold

200 free

Silver

50 free

Silver

100 free

 4th

100 back

5th

100 fly

5th

200 back

Genevieve Sasseville (F15)
Gold

50 free

Gold

100 fly

Silver

200 free

Silver

200 IM

Silver

100 free

Silver

200 fly

Bronze

100 back

David Tran (M15)
5th

50 free

6th

200 free

7th

100 free

Madeline Tran
7th

200 back