Hank Biasatti: From Chatham To Both The NBA, And MLB
Imagine playing in two major league sports. It's a feat that has been accomplished by few.
For Canadians, almost none.
Of course, there are exceptions to every rule, and Hank Biasatti is that exception. Biasatti only Canadian to play both in the NBA and MLB. He also played and lived briefly in Chatham, Ontario.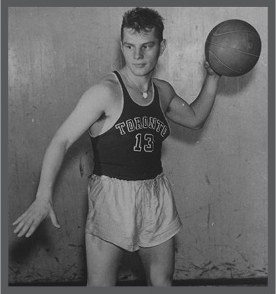 Born in Italy, Biasatti called Windsor, Ontario home for most of his life.
In 1943 while training for the army during World War II, Biasatti lived in Chatham and played baseball and basketball for Chatham's No. 12 Basic Training Centre.
Chatham's Basic Training facilities operated from 1940-1945, existing between Lacroix and Queen Street in Chatham, on the current location of Fergie Jenkins Field and Memorial Arena. The Training Centre's drill hall would later be repurposed into the Kinsmen Auditorium, and Memorial Arena would be erected in 1949 on the site.
In 1943, Chatham's No. 12 Basic Training Centre baseball team featured Biasatti at first base. Biasatti also played alongside another historic Chatham sports figure during his time in the city, Wilfred "Boomer" Harding.
Only three years after playing basketball for Chatham, Biasatti was one of six Canadian players invited to tryout for the Toronto Huskies, who would play in the Basketball Association of America (now the NBA).
He made the cut and played in 6 games, scoring 6-points in that stretch. It was the Toronto Huskies first and only season before the team disbanded in 1947. Because his birth country was Italy and being raised in Canada, Biasatti is often regarded as the first International player in NBA history.
Following his season in Toronto, Biasatti was claimed by the Boston Celtics, but decided to turn his attentions to baseball.
Before his baseball career took foot, Biasatti returned to Chatham in 1947 to referee a basketball game, having just finished his season with the Toronto Huskies.
Already 25-years-old at the time, Biasatti played in Savannah and Toronto through the 1947 and 1948 seasons.
In 1949, at the age of 27, Biasatti made his Major League Baseball debut. He played 21 games for the Philadelphia Athletics, recording two hits in that span.
In a span of only six years, Hank Biasatti had made stops in Chatham, the NBA (then BAA), and MLB.
Although his time in Chatham was a brief stint in history, Biasatti nonetheless honed his baseball, and basketball skills in Chatham-Kent before making the big leagues, in not one, but two sports.
---
By Ian Kennedy